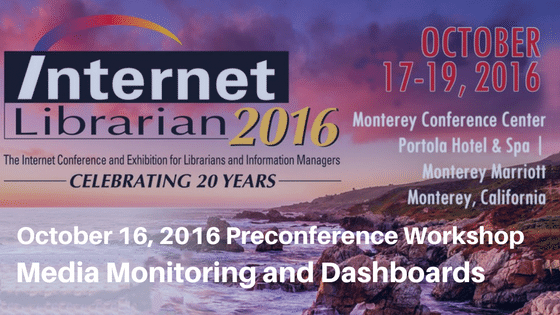 Internet Librarian 2016
Workshop: Media Monitoring and Dashboards
Hey there folks, I am so exited to announce I'll be doing a workshop, "Media: Monitoring Tools & Dashboards" at Internet Librarian in Monterey, California on Sunday Oct. 16th 1:30 PM to 4:30 PM.
How do you track what people are saying about your organization or community?
Or the industries you are following?
Or the new technology you are thinking about implementing?
Whether it's for you or your clients, learn about monitoring the web for mentions or conversations that are of interest, as well as the advantage of joining in. Stay current, up-to-date, and on the pulse of what's important to you and/or your clients by using free or inexpensive tools and dashboards.
To learn more about the workshop go to http://bit.ly/IL2016Workshop.
Direct registration, go to http://bit.ly/IL2016Reg
WatsonKS Community
Want to stay up to date on what's going with Ken Watson of WatsonKS?
Want to be on the inside and receive exclusive information from Ken Watson of WatsonKS?

Of Course You Do!