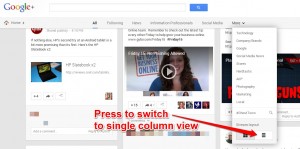 For those that are not happy about the new Google Plus column stream, there is an alternative. You can switch back to a single column stream by clicking on "More", then click on the single column view icon. It may give you a less chaotic look by switching back to the single column stream, but it does not have the old Google Plus stream feel.
At first, I did not like the new Google Plus stream. I mainly did not like it because it was not playing well with my ADD. However, over the last day I am slowly starting to like the new layout as I get a feel for it.
WatsonKS Community
Want to stay up to date on what's going with Ken Watson of WatsonKS?
Want to be on the inside and receive exclusive information from Ken Watson of WatsonKS?

Of Course You Do!