#ChatGram June 2017 Recaps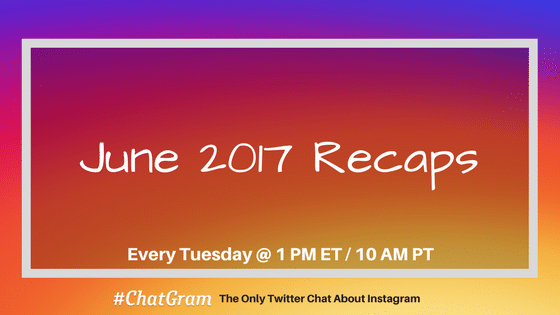 June 2017 marked a new exciting time for me because I launched my very own Twitter chat, #ChatGram, The Only Twitter Chat About Instagram.
After poking for a while I discovered there wasn't an active Twitter chat about Instagram, I was shocked. With already so many Twitter chats out there dedicated to other aspects of social media marketing (Twitter, Snapchat, blogging, and etc) I wandered if there was even a demand. After doing some research there seemed to be, and then there was much needed poking from my Houston crew for me to do this, #ChatGram was born.
Join us every Tuesday at 1 PM ET/ 10 AM PT>
June 13, 2017 Being Authentic on Instagram
For June 13, 2017 on #ChatGram we talked about, Being Authentic on Instagram.
And you may have noticed the change in graphics, that's because the amazing Rob Russo of Bold Brand Fast donated these awesome new graphics to play around with.
WatsonKS Community
Want to stay up to date on what's going with Ken Watson of WatsonKS?
Want to be on the inside and receive exclusive information from Ken Watson of WatsonKS?

Of Course You Do!